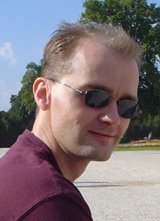 Robin Hagues read music at St. Anne's College, Oxford University, specialising in orchestration, fugue and Schubert's chamber music. He undertook post graduate piano studies with Frank Wibaut (Royal Academy of Music) and Michael Dussek (Royal Academy of Music), and courses in jazz piano (Goldsmith's College, London) and song writing (London Bible College).
Since 1997 Robin has freelanced in music publishing as an arranger, note-setter, editor and composer working on the music of Sir Peter Maxwell Davies, Sir Harrison Birtwistle, Mark-Anthony Turnage and Hans Werner Henze amongst others. He's also worked with Graham Kendrick and Keith Getty, undertaking music-setting and arranging for Graham Kendrick's The Millennium Chorus album. In 2005 Robin was commissioned to create the piano reduction and type-set the vocal score of H K Gruber's opera Der Herr Nordwind for Boosey and Hawkes, premiered in Zurich in 2005. He also project managed a team of five note-setters who were creating the orchestral parts, acting as editor and technical advisor. He's worked on Damon Albarn's Monkey Journey to the West theatre piece as music-setter and orchestration adviser and on Turnage's opera Anna Nicole and Ballet Strapless for Covent Garden. See Services & Portfolio for further information.
In 2000 his composition for tenor and orchestra setting Rupert Brooke's sonnet The Wayfarers was shortlisted by the Society for the Promotion of New Music. He has also undertaken several composition commissions which have been published. Outstretched Hands, his first album of worship songs received high praise from church leaders and critics. New Christian Music reviewed it saying,


'A classic lyricist and tunesmith, his repertoire is heart-felt, tells timeless truths, and has solid, discernable melodies. ... a wonderful selection of inspiration that embraces the classic themes of Christianity with grace and dignity. Robin is a master of this evangelical song-genre. This is a P&W gem not to be missed! I loved it!'

Robin's worship song We'll walk by faith reached the finals of the UK Songwriting Contest 2015 and has been described as 'a brilliant song.' Go to Free Downloads for free pdf copies of the sheet music and demo audios of this and many other songs all registered with CCLI and PRS.

Robin has broad experience as a performer. He won first prize in the Harrogate Music Festival Chamber Class aged 18 and conducted at University. After graduating Robin was Harpsichordist for a number of years with the London based Ariosti Ensemble creating continuo realizations for largely rediscovered repertoire. He has also taught piano and music theory and worked as a professional accompanist.


As a committed Christian, Robin has worked with Operation Mobilisation and Tearfund (amongst others) and has undertaken outreach work with teams in Belgium, Germany, Albania and Sierra Leone. He is married and currently lives and works in Oxford.